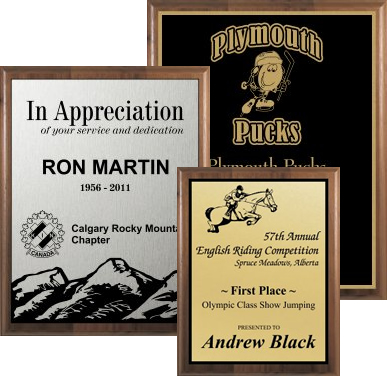 Looking to honor an outstanding employee or mark the contributions of generous supporters? Plaques are the perfect award to recognize achievement.
Sales Awards
Quality Awards
Safety Awards
Customer Service Awards
Employee-of-the Month Awards
Distributor and Customer Appreciation Awards
Retirement Plaques
We offer plaques in two finishes and several colour and material combinations. Almost anything you can imagine can be engraved, we can also add photographs or badges, etc to any of our awards, contact us today!
Our plaques are available in Solid Walnut, Walnut Finish, or High Gloss Black and come with your choice of a single or double mounted engraving in both plastic and metal. Color combinations for engraving include:
Gold with Black Engraving
Black with Gold Engraving
Silver with Black Engraving
For plaques with logos or special fonts, we would be pleased to quote/proof your requirements.
SPECIALTY PLAQUES