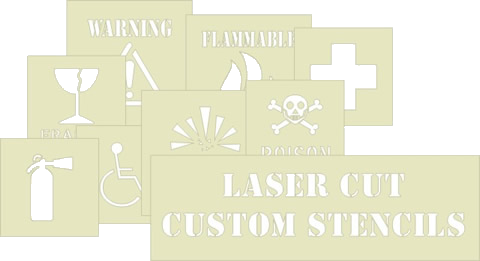 Our laser cut Mylar stencils can be up to 24 x 12 inches in size and can be as simple as standard stencil font or company logo. Mylar Stencils are a light weight and economical solution for your stencilling needs and can be used repeatedly with proper care.
Any number of multiple 24 x 12 sheets can be combined together for larger requirements.
For stencils with logos or special fonts, please contact us at sales@printystamp.com and we would be pleased to quote your requirements.
---
Custom Laser Cut Mylar Stencil 24 x 12 inch with Standard Stencil Font
Price $41.95

Custom Laser Cut Mylar Stencil 24 x 6 inch with Standard Stencil Font
Price $34.95

Custom Laser Cut Mylar Stencil 12 x 12 inch with Standard Stencil Font
Price $34.95

Custom Laser Cut Mylar Stencil 12 x 6 inch with Standard Stencil Font
Price $24.95

Custom Laser Cut Mylar Stencil 6 x 4 inch with Standard Stencil Font
Price $20.95